7 MINDFUL GIFTS: "The Present IS the Gift."
How to Reduce Stress and Save Money this Holiday Season.
By Debbie Lyn Toomey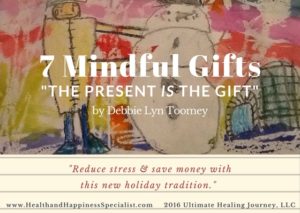 Stop!
Look.
 Listen.
Breathe this holiday season.
Just because it is the busiest time of the year, it doesn't mean you have to be hustling and bustling. Don't you do enough of that the rest of the year anyway? One of the best practices to do this time of the year is mindfulness. What better way to fully enjoy the spirit of the season than to combine this graceful technique with gift giving?
New Tradition
This year, I invite you to start a new tradition. I call it "The Present IS the Gift." This simple tradition will help you reduce the pressure and panic that comes from little time or energy when getting ready for the holidays and buying gifts. Why not "bag" that old negative feeling and shift to a positive one? Replace stress with savoring the moment. And instead of buying expensive gifts that will lose value after a few weeks, try giving priceless ones that will be treasured by both you and the recipient for many years to come. Too good to be true? Not really. In fact, this tradition is guaranteed to be fun for you and those who are lucky enough in your life to receive this special present. This new practice will help you end the year merry and begin the new one with prosperity.
Fun and Free
The practice of mindfulness is about being in the present moment and savoring the experience. So why not add an element of mindfulness to the way you think about the gifts you are going to give? Be creative with your gifts and challenge yourself to make if fun and free. In this day of instant gratification, many people can get what they want 24/7. It's getting more and more difficult to buy something special for someone. That is why the more unique you can make your gift, the more enjoyable and exciting it will be for both you and the other person. Mindful gift giving ideas are activities that have the power to boost your communication, increase your level of happiness, and enhance your relationships. In other words, a mindful gift is a gift that keeps on giving.
 The Presents
 Here are 7 Mindful Gifts that will get you started in "The Present IS the Gift" tradition.
Date: Dedicate a day for the lucky recipient. If you can, take a day off from work just to spend quality time with him or her. This will give you a break from your normally busy life and make the recipient feel extra special.
Declutter: Out with the old. In with the new. This invites new and positive energy into your special someone's life. Got friends or family who have been trying to declutter but are too overwhelmed and busy to do it alone? Present them a homemade card that says you will be there to help get the job done.
Donate: Instead of buying gifts for each other. Suggest to your core group of family and friends to donate and adopt a family. Help others in need.
Deed: Create a homemade coupon that promises to do a nice deed. They can pick from any of the following: to look after baby, ailing parent, house, pet, or plant. This will allow your special family member or friend a way to go away without worrying because they know you are looking after who (and what) they care about most.
Deal: Make a deal with your family member or friend to start a mindful practice. It could be doing a 30-day challenge of some sort that will keep you connected daily for a month. This is a win-win deal that will make both you and the recipient motivated to keep moving forward towards your ultimate goals.
Deliver: Write a gratitude letter to someone that inspired and supported you in the past. Deliver this letter to that person and ask the person to read it out loud. This practice has been proven to have lasting feeling of happiness and wellbeing for both the writer and the receiver of this wonderful letter.
Dish: Dedicate a special evening for your loved ones and make a full course homemade dinner for them. This is a great way to spend quality time with the awesome people in your life. Also, you can make and freeze one of their favorite meals and wrap it up. Your special dinner will surely be appreciated after a hectic day at work.
It's not too late to begin "The Present IS the Gift" tradition. This practice will help you and those in your life feel less stressed, and more connected to you in the coming year. Remember, mindfulness starts with awareness. The more aware you are of the stressful and wasteful "same old ways" of doing things, the more mindful you can be in giving a more heartfelt and thoughtful gift this year.
If you need support with how to add more mindfulness to your life for stress reduction and productivity, email me at [email protected] today to find out how we can work together. Until then, I wish you and yours a happy and healthy holiday season.