Happiness and Quality of Life: How to Live a
Regret-Free Life
By Debbie Lyn Toomey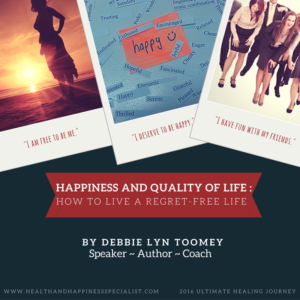 What does a well-lived life mean to you?
Is it a life that gives you freedom to be yourself and express yourself?
Is it a life that is filled with meaningful moments from having a balanced life?
Is it a life that is surrounded by family and friends?
No matter what your answer is, I'm sure that your version of a well-lived life is not filled with sorrow or regrets. While it's not easy to live a life with no regrets, there are ways to lessen them so that you can live a quality life. As a nurse of over 25 years in a major hospital in Boston, I've taken care of my share of terminally ill patients. Patients who were given months, weeks, or sometimes days to live from disease or complications from their underlying issues.
Patients
From time-to-time, I witnessed patients who were fortunate enough to be surrounded by people they loved. Loved ones who took turns making sure that they were never alone. Then there were other end-of-life patients who laid quietly on their hospital beds with no family or friends visiting them. Their last moments on this earth were spent with strangers who took care of them shift to shift. I often wondered what went through their minds. As they laid on their last bed not knowing what ever happened to their loved ones and probably wondering when did their series of unfortunate events began. Did these dying patients have regrets? If so, what were they?
Regrets
Bronnie Ware, a palliative nurse wrote a book, The Top Five Regrets of the Dying. In the book, she wrote about the most common regrets of the dying. Based on her findings the core issues with the dying had to do with the lack of courage to be who they were, to express themselves in front of others, too much time spent on career and not enough time spent connecting with friends and nurturing their own happiness.
Happiness Soothes
I have discovered personally and professionally that happiness skills can help us become the best version of ourselves. There are many practices in the field of Positive Psychology, the science of happiness and optimum human performance, that boost courage, increase mindful work-life balance, and enhance connection with those who (and what) matters most in life. In fact, purposely applying simple happiness skills can soothe negative feelings into positive ones.
Regret-Free
In my book, The Happiness Result, More time, More health, More love, More success, I covered seven A.W.E.S.O.M.E.™ (Authenticity, Wonderment, Empowerment, Self-Compassion, Optimism, Mindfulness, & Enjoyment) pillars to create an awesome and well-lived life. To get you started on your journey to a wonderful life there are some practices you can begin to gain the quality of life that you deserve. Adding these simple exercises into your life can make your life regret-free.
They are:
Courage Boosters: Take Risks. Do something new thing every week. This can be big or small. Doing this will exercise your courage muscles and add more excitement into your life. Look at your bucket list of "What I want to do" and get started. Start with something small then build into bigger ones. The more you do this the bolder you will be in all areas of your life. Just as negative emotions impact your life, so do positive ones. The more positive experiences you have the happier your life will be overall.
Mindful Work-Life: Use happiness as your balancing scale. Notice when stress is building up and use relaxation techniques to help you feel better. Take deep breaths when unexpected challenges "knock the wind" out of you. While work-life balance is never a 50-50 equation, be mindful of what is tipping your scales. Honor your happiness and use it to measure what is most important to you. Doing this will offer you healthier choices to add more happiness to your day.
Connection Enhancers: Initiate connection with friends. Don't wait to hear for them to ask you to connect. A nice thing to do is invite a friend to do a week long (or longer) happiness practice with you. Doing this fun practice will ensure that you both connect. Start by sending each other a daily text message that says "breathe" or "smile". Notice how these simple reminders help you build a stronger relationship with your friend and make your day so much brighter.
Quality of Life
While there are so many scientifically proven self-help techniques available to us, they will not work unless we decide to commit to practicing them. A happy and meaningful life starts from within. It is our life's work to live the best way we can with the "cards that we were dealt."  Life is not perfect but we can have micro-moments of perfection by taking simple actions that add more love, laughs, and meaning to life.
Mantras to Live By
Here are helpful mantras to live by. Pick one or more to help you create a regret-free life.
"I am free to be me."
"I am safe to speak from the heart."
"Happiness adds quality in all areas of my life."
"I have fun with my friends."
"I deserve to be happy."
More Results
Learn more ways to cultivate a happy and regret-free life and get The Happiness Result, More time, More health, More love, More success.   
Great news! Coming at the beginning of December 2016 is The Happiness Result's companion journal that will help you manifesting your goals by helping you stay focused and motivated. It's called, The Happiness Result, Goals, Gratitude, and Success Journal. Both books will help you gain the happiness result you are looking for.
Please share this article with family or friends who can benefit from it.
Source: The Top Five Regrets of the Dying: A Life Transformed by the Dearly Departing