Bounce Back Stronger – Resiliency Skills for Today's Busy People
Debbie Lyn Toomey, RN, CIPP
Author of The Happiness Result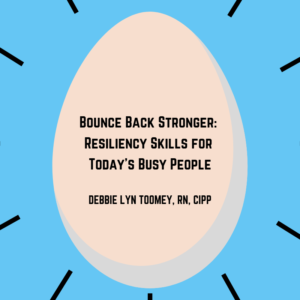 Do you remember the Weebles toys?
I used to love these egg-shaped wobbly toys that never seemed to fall down despite how many times I tried to knock them down. These toys to came to mind when I was preparing for my presentation on resiliency for a group of emergency medical service (EMS) professionals. EMS professionals are at risk for burnout and compassion fatigue due to the nature of their work with trauma and human tragedy. That was why I was asked to teach them about resiliency and ways to bounce back stronger so that they could learn how to manage their stress and increase their sense of well-being.
What's Resilience?
Even though we are not EMS professionals, it is still important for us to learn about resilience and how to cultivate skills that can help us live a healthier and happier life.
What is resilience? According to the Merriam Webster dictionary, it is "the capability of a strained body to recover its size and shape after deformation caused especially by compressive stress" and "an ability to recover from or adjust easily to misfortune or change."
Are you resilient?
Do you remember the last time you bounced back from adversity?
What did you do to move on with your life?
Three Skills
While we have our own resilience set point, there is always room for growth. The more we learn about ways to navigate through life's ups and downs, the better prepared we are for the next time we are tested. In this article, I will share three simple resiliency skills that can help you become a victor, instead of a victim. The practices are mindful breathing, self-compassion break, and gratitude.
Mindful breathing – This simple yet powerful tool that can help you feel grounded and centered when you feel defeated from life. Mindful breathing can help nourish your body and brain so that you can take the time you need to respond properly instead of reacting too quickly.
Self-compassion break – This Kristen Neff self-compassion exercise encourages a person to lean into their suffering and start treating themselves with kindness. Neff suggests saying these three phrases.
"This is a moment of suffering."
"Suffering is a part of life."
"May I be kind to myself in this moment."
Gratitude – This powerful practice boosts happiness instantly. This skill helps elevate the spirit during times when it is needed the most. Asking yourself what went well helps the mind to focus on the good rather than the bad. The more you concentrate on and savor the good that has happened, the quicker you can bounce back stronger.
Contact Me
The next time you feel upset, try these three resiliency skills until you feel better. The more you practice these techniques the more you can be like the Weebles toys who wobble and don't fall down. If you need more support on how to cultivate resiliency skills contact me for coaching at [email protected].