Seven Mindful Ways to Add More 
Love & Kindness into Your Life
By Debbie Lyn Toomey, RN, author of 
The Happiness Result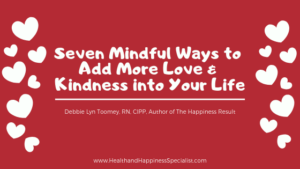 Happy February!
Did you know that this month is not only a month for celebrating Valentine's Day but also for performing a Random Act of Kindness?
In the spirit of love and kindness this month, I want to share with you some wise words of wisdom that were given to me by my mindfulness muse during a meditation. I suggest that you read it a couple of times and think about the phrases that speak to you. Once you are done reading, pick a phrase, and play with it for a day. Be creative and have fun with it.  As you practice one of the mindfulness techniques, notice how it makes you feel. If you like what you have chosen, repeat it for another day or two.  When you feel ready to try another one, read over these Words of Wisdom again and repeat the same process. Here are seven mindful ways to add more love and kindness into your life.
Words of Wisdom
By Debbie's Mindfulness Muse 
Breathe and… 
Watch your words
Breathe and…
Listen to your gut 
Breathe and…
Question your mind 
Breathe and…
Speak from the heart 
Breathe and… 
Turn up your lips 
Breathe and… 
Extend your hand 
Breathe and… 
Move your feet
This month, I encourage you to give it a go and tune into how much more love and kindness it brings into your day. There is such depth in these seven phrases that each one of them can become a month-long mindfulness practice in itself. Here is what they mean.
1. Watch your words – Think about what you are going to say before you say it. Use your mental filter to avoid hurting someone's feelings and regretting what you have said.
2. Listen to your gut – Tune into your gut instinct and intuition. They are the radars that keep you informed about everything and everyone.
3. Question your mind – Just as your gut tells you the truth, your mind can play games with you. Ask your mind what is really, really, really so. You are not your thoughts.
4. Speak from the heart – When you speak, allow it to be heartfelt. Words that come from the heart, speak volumes about your intentions.
5. Turn up your lips – Smile – period – Smiling can brighten everyone's day. Smiling is very appealing and attractive too.
6. Extend your hand – Help others. One of the best ways to make yourself and others feel better is by doing a kind deed.
7. Move your feet – One of the best ways to decrease stress and improve your health is by being active. Call a friend or family member and ask them to go for a walk with you.
I hope you enjoyed the Words of Wisdom from my mindfulness muse. I certainly do. To learn more about ways to gain more love in your life, get my book, The Happiness Result. I created my book for today's busy people to help them pick and choose seven simple techniques to create an awesome life. Go to www.TheHappinessResult.com to get your copy.
Much love and gratitude,
Debbie