Have you ever had a day off that you filled with lots of activities?
I recently had one of those days and I had such a fantastic time doing everything on my list, including a task that I have been putting off for the last 3 weeks.  That task was switching my winter wardrobe to my summer one. I don't know what it was about this particular task, but I always feel like I have to be in the right mood to do it, otherwise I'll be spending half the day trying on all the clothes, losing track of time and feeling guilty for not making any progress.
On my day off, I challenged myself to get as many things checked off my list and completed as possible. And that was exactly what I did. I checked everything off including my long awaited wardrobe switch that I had been neglecting.

WOOP
Here's what I did. I applied Dr. Gabrielle Oettingen's technique called WOOP (Wish, Outcome, Obstacle, Plan.)  Dr. Oettingen's and her fellow researchers found that when positive plans are visualized along with the obstacles, people are more likely to become motivated to take action towards the direction of their goals. They found that positive visualization was not enough and that adding the perceived obstacles into this equation allows the person to become more prepared to overcome the obstacles they felt were keeping them from going forward.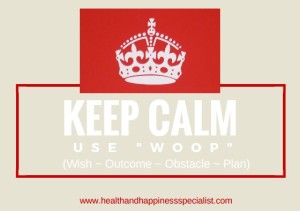 I did it!
Here's how I applied WOOP to help me tackle my wardrobe switching task.
I determined my "wish." It was to switch my winter wardrobe over to my summer wardrobe. I visualized what it would be like when it was done.
My "outcome" was to have my favorite summer clothes ready to wear and to donate a bag of clothes that I hadn't worn in a long time. I also visualized what this would look like and got very excited about it.
My "obstacle" was lack of time. I challenged myself and decided to make it easier and fun for me in order to make the task less monumental.
My "plan" was to make a game out of it. I decided to just spend 1 hour doing this and to try to get as many clothes donated as possible during that time. I did this so that I was less likely to try on clothes after clothes after clothes and lose track of time.
I decided to give it a go and it worked! Not only did I get motivated into doing this seasonal task, I had fun doing it.  It felt good knowing I was doing something that I've been meaning to do, and lastly I was able to get 2 bags of clothes instead of one ready for donation.
The WOOP technique is easy and effective. Next time you just can't get started doing something that you've been meaning to do, I suggest you try the WOOP technique.
If you feel you need extra help to reach your goals, contact me for coaching so that we can create solution-focused plans to make your dreams come true.  Email me at info@ultimatehealingjourney.com today.