Top Five 2018 Tips for Healthy and Happy Holidays
by Debbie Lyn Toomey RN, Author of The Happiness Result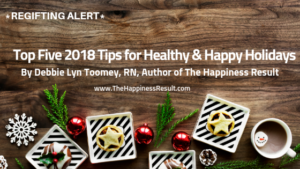 I love the holidays, don't you?
Have you started your holiday shopping yet? I have. I started last August.
Why?
Why not. (smile)
I am a planner and love to stay on top of my holiday shopping so that I don't feel pressured to do it at the last minute. I hate feeling overwhelmed by doing something that I love. There's no fun in that at all. Just in case you are starting to feel panicky that the holidays are around the corner, don't worry. I got your back! I have taken regifting into a whole new level by giving you the top five 2018 tips that I sent you this year. I hope that this small package of practical tools can help you have a healthier and happier holiday season.
Drum roll, please…
Starting from the bottom. Here they are.
Tip # 5 Self-Compassion (April, 2018) – Give yourself kindness, love, and compassion this holiday season. If you had goals that you did not reach this year, give yourself a break and allow them to be goals for 2019. Instead of reflecting on what you didn't achieve this year, think about the goals that you did reach. Give yourself a pat on the back and a hug for all that you have achieved this year.
Tip # 4 List (May, 2018) – The best way to have a successful day is by planning ahead. Creating a wish list of things-to-do can become overwhelming. Once you have allowed yourself to go crazy writing down your items. Look at them again and ask yourself which ones you will really do that day. Asking yourself this powerful question is a game-changer. You'll be happy to see your list go from daunting to doable.
Tip # 3 "I Get to" vs. "I Have to" (March, 2018) – It's amazing how quickly our attitude and experience changes when we switch inner talk from "I have to" to "I get to". This simple and strategic change can help you do something that you didn't feel like doing to doing it with more gusto.
Tip # 2 Gratitude (June, 2018) – One of the quickest ways to boost your happiness is through gratitude. Gratitude can help you clear the holiday blues by thinking about all that you have such as, clothes on your back, a friend to talk to, or food in your fridge. If you can't think of what to be grateful for, then you are not looking hard enough.
Tip # 1 Contentment (October, 2018) – If you don't feel like striving for a holly jolly holiday this year, don't worry. Try going for contentment instead. There is great peace, grace, and blessings when you are feeling content. Think of activities, people, places, and food that can bring about contentment for yourself. Try doing something different for yourself every week and notice how you feel.
I hope you enjoyed these regifting tips. I know I will. They're fantastic reminders for anyone who can get caught up in hustle and bustle of the season. If you find a practice that you like, continue it for 30 days. That way you can ring in the new year on healthier and happier note.
C'mon, Get Happy
If you need coaching to help you reach more goals, contact me at [email protected]. If you are looking for a book that can bring about many happiness results, get a copy of my book, The Happiness Result – More time, More health, More love, More success. Go to www.TheHappinessResult.com to purchase your copy today.
Happy Holidays to you and yours!
Much love,