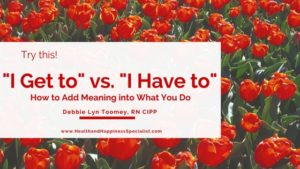 I recently met with a CEO of a hospital to discuss a program that I want to do for health care professionals for stress reduction and wellbeing. In the 30 minutes we spent together, I got a sense of how passionate he was about being a doctor and a hospital administrator.
As he reminisced about the past and how he learned about leadership, he said something that struck me. He said that no matter how busy the day may seem, he "gets to" make a difference by doing something that he loves. While I left the meeting excited knowing that he fully supports the program, I also felt inspired by his work ethic. He said something that I don't hear many leaders or manager say and that is "I get to…"
Whether it is at work or at home, the idea of having to do something can be tiring and frustrating, right?
How many times do you say to yourself, "I have to…"? 
"It's Monday and I have to go to work today." This mindset feels heavy and sad which makes the rest of the day drag even more.
"I have to go to a lot of meetings today." There is powerlessness and frenzy in this way of thinking which will make you less effective when joining these meetings. 
"My room is a mess and I have to clean." There is no sense of importance in this way of thinking. That is probably why many procrastinate doing this chore. 
Next time you feel like this, stop and think about the difference it will make in those instances to say "I get to." No matter how big or small. Make a mental list of what can't be done without you. Once you have your list add the words "I Get to" in front of it so that you will feel better about your role. Whether you are a farmer, a cashier, or a nurse, remember that what you do matters and without you, your community may not thrive.
Notice the difference in the sentences below.
"It's Monday and I get to go to work today." There are many unemployed people out there who would switch position with you in a second.
"I get to go to a lot of meetings today." When you shift from the "have to" to "get to" mindset, you will be at your game in all your meetings instead of feeling lost.
"My room is a mess and I get to clean it." Cleaning and decluttering are physical activities that allow you to burn calories and create room for abundance.
I invite you to play with these three words this week and notice how happy and fulfilled you feel at the end of the day. This is a great exercise that can add more meaning to your life.
If you need coaching on how to add more happiness and meaning into your life contact me at [email protected] . Also, if you like to color, be sure to purchase a copy of my latest book, The Happiness Result Art Therapy Coloring Book. It's a great book for focusing, relaxing, and inspiration www.TheHappinessResult.com.