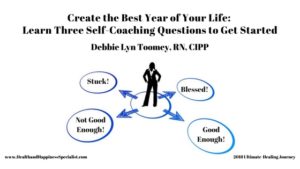 Are you tired of your same old story?
Are you ready to make this year better than you can ever imagine?
This year, challenge yourself by asking questions that will make 2018 the best year of your life.
Before you start asking yourself these questions, it's important to understand why asking the right questions is really important. Basically, the questions you ask create your reality. It can help you shift from one state to another within minutes. It's true!
The mind is obedient and intelligent. It's programmed to answers questions. For example, when you ask the question, "What else can go wrong now?", your mind will find anything that answers that question. We've all asked this question before and regretted asking it by the end of the day, right? On the other hand, when you ask, "What went well?" your mind will look for all that went well to answer your question. This question is an energy booster and will make you feel good.
Here are the three self-coaching questions you can ask yourself to help you stay true to your goals. Read them over once, then go back and take the time to answer questions from your heart.
According to Bronnie Ware's work on the top regrets of the dying, the fifth regret was not allowing oneself to be happier. We all have a happiness set point. Some have more than others based on genetics and life circumstance. However, it's important to know that you can cultivate more happiness from your intentions and actions. Happiness is not only a choice, it is also a skill that can be learned. While some people are born with more happiness genes than others, it is possible to become happier regardless of what is going on in your life.
If your answer is "yes," congratulations. Keep on doing what you are doing. Shine on!
If your answer is "no," move on to the next question.
Happiness is a positive emotion that raises your vibrational energy and makes you more attractive. Doing something that makes you happy, no matter how small it is, is enough to positively influence all areas of your life. Just as negative emotions such as sadness or anger can impact all areas of your life, happiness can do that too.
If you are not convinced, think of someone in your life that is genuine happy. Do you like being around that person? Do they seem charismatic and somehow attract people to them? Ask yourself, what makes you happy and then go on to the next question.
3. WHAT IS THE ONE THING THAT I CAN DO TODAY TO BE HAPPIER?
It can be daunting to all of sudden make major changes in your life even for the better. The best and only way to start creating positive habits is by taking small and consistent actions every day. The more you mindfully take small actions by chunking down your goals, the more they will seem doable. Ask yourself, what is the one small thing that you can do today to be happier. Once you determine what it is, do it right away before your logical mind start talking you out of it.
Once you take action. Notice how you feel. The more you recognize the difference in how you feel the more you will want to do it. Give yourself permission to have fun.
I hope these three self-coaching questions will help you add more adventure and abundance to your life. Ask these questions daily. The more you work with these questions, the more you can live with no regrets. Print out a copy of these questions and keep them close by. The more you ask these questions, the more they will help you create the best year of your life.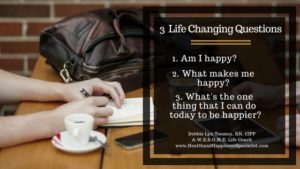 If you need more help to reach your goals, contact me for 1:1 coaching. You can reach me at [email protected]. If you haven't yet, gotten a copy of my book, The Happiness Result- More time, More health, More love, More success, click here to get your copy www.TheHappinessResult.com