Part One: Powerful Reflection to Increase Happiness and Boost Success
By Debbie Lyn Toomey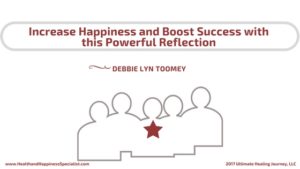 I recently attended the National Speakers Association (NSA) Influence 2017 conference in Orlando. It's a yearly conference that draws professional speakers and consultants from all over the world. Happy international professional speakers met up with old friends and mentors, networked, and celebrated the best of the best in the field. The convention was fantastic!
The event was held at the Walt Disney World Swan and Dolphin Resort. The venue was buzzing with excitement with a children's regional dance competition, the public speaker's conference, and independent visitors from around the world. Everyone was dressed to the nines, especially the little dancers and their proud parents.
As a professional speaker myself, I was star struck because I met other speakers I had heard so much about. There were so many talented speakers at the conference. I was impressed by how many of them gave sincere appreciation and credit to speaker colleagues who had supported, inspired, and coached them.
The keynote speakers were amazing. Although they all had their own stories and style, they all had one thing in common—a powerful message. While some moved me to tears, others moved me to take action.
One message that Vinh Giang, a keynote speaker, stressed really stuck with me:
You are the sum of the five people you hang around with most.
Giang said this as he shared his success story. Three years ago he was a novice speaker, and now he has fulfilled his dream of owning a successful business.
"Hmmm…" I didn't know what to make of this statement at first until I repeated it to myself: "You are the sum of the five people you hang around with most."
All of a sudden, a light bulb went on. "Yes, of course!"
As I half listened to the captivating keynote speaker, my mind went off on a tangent and a mental quest to figure out who my five were.
"Do I hang around with people who are helping me shift to the next level of my business?" I asked myself. "Who are these five people? What if I don't have five people right now?"
I started to reflect upon the people I hang around with most, either in person or by phone. While we might not have a choice about some people we either live or work with, there are those whom we purposely seek out to make us feel better and do better.
You are the sum of the five people you hang around with most.
"Who are my five?" I asked myself.
Half-panicked that I may not have the "five" people, I started thinking about the people I really did spend the most time with consistently. I flipped my conference workbook over and pulled out my pen. I listed the numbers 1 through 5 down the left side of the blank back cover.
The first person on my list was my husband, Bill, who loves me and is a great supporter in my career. Second was my business and speaking mentor, Naomi, who has been a blessing to me both personally and professionally. Third was my nurse scientist mentor, Judi, who has guided me through the world of nursing research and helped me write a winning proposal to do mindfulness research. Fourth was my dear friend, Patrick, whom I met when I studied positive psychology and who has been a wonderful accountability buddy. Fifth was Linda, my NSA friend, whom I meet with regularly for masterminding.
Except for my husband, the other people had not been a part of my life when I started my business almost five years ago. I met these people as a result of networking, joining associations, taking classes, and being at the right place at the right time. I am fortunate to have a great circle of friends and mentors. Without these five people in my life, my career would not be in the upward trajectory of success that I have always wanted.
How about you? It's your turn.
Who are the five people you hang around with most?
Who are the people that you look up to and to whom you can consistently go to for advice?
Who are the people who are impacting your life for the better?
You are the sum of the five people you hang around with most.
You might ask, is it really necessary to do to this exercise? Absolutely!
The more we are aware of the way people influence our thoughts, actions, and behavior, the more we gain control and clarity in who we are becoming and where we are going. This awareness is key in moving toward the direction of our best self. Once we recognize the positive influencers in our lives, we can appreciate the value these people add to our lives. Realizing this helps to increase our happiness and boost our success.
To gain the most out of this exercise, read the message one more time and then reflect on the following steps.
You are the sum of the five people you hang around with most.
1. Who — Who are they? Reflect on the people you purposely spend time with most.
2. What — What brings each of you together? What kind of a relationship do you have together?
3. Where — Where is each relationship taking you? Do you like where it's going?
4. How — How is each relationship going for you? How do you maintain the connection?
5. Why — Why do you choose to spend time with each person? Why him or her instead of others?
The bottom line is, the clearer we are about who we spend our time with, the more likely we will be able to discern and wake up to the value they bring (or don't bring) into our lives.
If you don't have five, don't worry! It's really not about the quantity; rather, it is all about the quality and what you need currently. I haven't had five all the time in my journey. If you are venturing into a new phase in your life and need extra support from experts or people going through a similar journey, then it may be time for you to start opening yourself up to more influencers who can help you enjoy the path. In part two, I will share with you simple steps to find and attract the people you need to help you gain more happiness and increase your success.
Until then, enjoy this exercise and share with us your top five and how they have helped you in your career. Also, if you are looking for a coach to help you reach your goals, contact me at [email protected]. I would be happy to talk with you to see how we can work together.