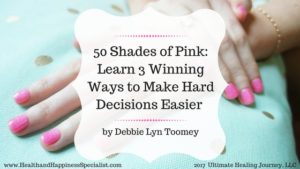 These where just three of the many shades of pink I was teased with yesterday as I waited to get my long-awaited manicure and pedicure. Since it's been many years since I pampered my nailbeds, I wanted to pick the perfect shade of pink that will make the experience amazing.
As I sat on the chair waiting for my turn, I was told to look at the different array of colors to choose. Because I've already decided on the color pink, I immediately discounted other colors that were not pink, since I thought it would make it easier for me. I was surprised 30 minutes later when it was time to pick my color that I still could not make up my mind because there were over 50 shades of pink to pick from!
Even though I had a half an hour looking over dozens of shades of pink, I still could not make up my mind. After a while, I started laughing at my inability to make a choice fearing it wouldn't be the pink for me. The perplexed and patient nail technician started to give me advice.
"No." she said, "that's too light for you skin."
"I like this one." She said as she pointed to pink color number 27.
What was supposed to be an hour of peace and pampering, became a moment of fear of making a mistake. In my mind, I didn't want to make the wrong choice and pay for it in more ways than one. This is an example of the tyranny of choice that Barry Schwartz has discovered in his research. According to this researcher, while having some choices can make our lives better, there can be a psychologically paradoxical effect when we have too many choices.
Barry Schwartz's research states that having too many choices can be linked to unhappiness. Moreover, your decision-making personality can lead to regret and depression. There are two basic personalities according to his study. There are the "maximizers" who need to research and contemplate their decision to death in order to make sure their choice was the perfect one. On the other hand, there are the "satisficers" who easily find and make their decisions based on their standards and needs. The "maximizers" tend to waste a lot of time and gain little happiness while the "satisficers" are able to go about their lives more efficiently and with more enjoyment.
Knowing which one you are will help you with your decision making. The more you are aware of your tendencies to more you can work with them.
While it's good to have choices, it doesn't have to be a time-wasting and overwhelming ordeal. Here are three winning ways to make hard decisions easier and better for you.
1. Choose your battle. Realize that not all choices need to be scrutinized under the microscope. This will give you more control over your decision-making and allow you to enjoy the situation.
2. Prepare a game-plan. Create a decision-making plan that has wiggle room for you to be satisfied. Have plan A, B, and C that you will be happy with.
3. Limit your time. Time yourself. Sometimes, the best decisions are made when little time is at hand because it causes us to focus on what is truly important.
Next time you find yourself in a bind and can't decide what you want, try these three suggestions, so you can come out feeling good about yourself. If you're wondering about which pink shade I decided to go with for my nails, I chose the one that the nail technician suggested – number 27. Why? It was pink, and the basic color I wanted in the first place. It made me happy. I left the nail salon with a smile on my face and thinking about the next color I want to try.
Looking for additonal ways to gain more happiness in your life? Get my book, The Happiness Result, More time, More health, More love, More success. It could be the best choice you make today. Click here to get the book, http://thehappinessresult.com/