Detox with Mindfulness & Self-compassion:
Feel Lighter During the Difficult & Heavy Times
By Debbie Lyn Toomey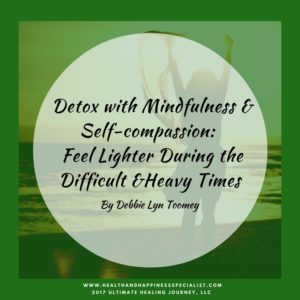 Are you tired of listening to negativity all the time?
Are people around you dragging you down with their complaints and pessimism?
Are you sick of all the depressing stories that the media is constantly telling us?
Constant negativity is toxic. It penetrates our mind, then our heart and eventually our body. Luckily, there are techniques we can use to get rid of the unwanted feelings that are caused by negativity. These two techniques make for a healthy detox that can help you feel secure, supported and stronger during difficult times. The techniques are mindfulness and self-compassion. These two practices have helped me feel more in control and content when life seems bleak and gray.
Heavy Feelings
Negativity is infectious. It makes us feel heavy inside. In fact, according to researchers like Rick Hanson and Barbara Fredrickson, people have a negativity bias. That means negativity stays with us longer than positivity. In order to get rid of the negativity, we need to experience three times more positive feelings than negative. It takes three positive experiences to cancel one negative one. I experienced this when my bad feelings spiraled down from focusing on more and more negative experiences. My happy self was slipping away.
My Medicine
I ate junk food to feel better. Food became my medicine. It was my quick fix. Eventually, this comfort habit made me feel worse when I began to notice my clothes getting tighter and the numbers on my bathroom scale began moving in the wrong direction! Seeing my stress translated into numbers like this was a rude awakening. I realized I had to change the way I managed my stress.
Daily Detox
What I did was a game-changer and made me feel better and happier. The daily detox that I did wasn't the expensive kind that you buy at the store. My daily detox was free. This mindfulness and self-compassion cleanse allowed me to discern what was good for me and what was not. There are simple ways to do this detox every day.
Here are two ways to get started.
Mindfulness: Increase your self-awareness by being in tune with your body. Notice who or what causes tension to your body. Scan your body and recognize where you hold your stress. Learning how your body responds to stress or any negativity will help you take healthier actions to soothe your stress. One of the easiest ways to reduce stress is by taking deep breaths. Next time you feel your body tightening from too much pressure, stop and take some much-needed breaths.
Self-compassion: Give yourself permission to be human when you get caught up with everyone's negativity. You are only human, and it happens to everyone. When you notice yourself feeling angry or frustrated, stop and label the emotions that you are feeling. This is a great way to shift from feeling badly to feeling better. Treat yourself like your own best friend; you will be happy that you did.
It is Possible
While it's impossible to live without negativity in this world, it is possible to deal with it in healthier ways that will give you more control and happiness in your life. I invite you to try this "Daily Detox" to help you feel lighter during the difficult and heavy times.
Extra Support
If you need coaching support to help you with the "Daily Detox" contact me at [email protected] . I also suggest getting my new book, The Happiness Result, More time, More health, More love, More success. This book is a combination of self-help, science, and the power of your intuition to help you gain the happiness you are looking for. Click here to get your copy.