How Harry Potter Added Mindfulness & Magic to My Family Vacations
by Debbie Lyn Toomey, author of The Happiness Result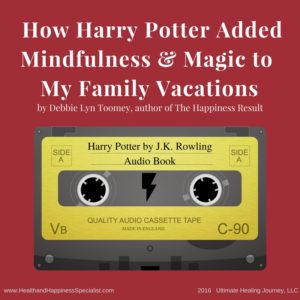 My family and I recently had a vacation and instead of flying to our destination, we decided to drive. It didn't take us very long to agree upon Acadia National Park in Maine. We went 3 years ago and had to go back because we had such a blast on our previous visit. Because this road trip was going to be a 4 to 5-hour drive for us, we planned on ways to make it comfortable and enjoyable for my 3 boys, my husband, and me. We made sure to carefully pack all of the essentials. In the trunk went our luggage, beach chairs, and the $1.50 kite that I bought on sale at the end of last summer. Also, within our reach were our sweet and salty snacks and an assortment of drinks that were sure to please everyone on the trip. Finally, in the front, we had our old Harry Potter book on tape. Cassette tape that is.
Mad About Harry
The Order of the Phoenix was the only Harry Potter audio book that we had on tape. Although we had the other ones on CD's, it was the story that we wanted for our long drive. Luckily, our family minivan had a working cassette tape player that we often used to listen to 70's music. We had our first experience with listening to the Harry Potter audio book 12 years ago when we did a 7-hour drive all the way up to Toronto, Canada to visit relatives. It was then that my husband became interested in the Harry Potter stories and my whole family fell in love with the audio book series.
I still smile to this day as I recall my husband's face as he drove us to Toronto. He was listening so intently that our bathroom breaks ended up happening only after the end of the exciting parts of the story. Listening to the Harry Potter audio books made what can seem like a long and boring road trip into a fun and memorable adventure for everyone.
Serious Blackness
I recall yet another family vacation where Harry came along with my us. It was 8 years ago and we were staying at our condominium in New Hampshire. My family had just finished clearing off the dinner table after having a tasty assortment of leftovers we collected over the previous days. It was a perfect night to stay in because of the heavy rains that were expected to come. Just as we were about to discuss which "oldie but goodie" movie to watch that evening; the lights went out. In fact, the whole condominium complex was seriously dark all around us. The only light source that we had was from outside: the full moon that came out from the clouds after the rain had stopped.
Lumos Maxima!
Luckily, as if I had my own magical wand, I grabbed my iPhone and it created a source of light for us. It gave us light similar to the charm, "Lumos" that the Harry Potter characters would say when they were in the dark and needed light. Thankfully my mobile phone gave me enough light to help me find my Yankee Candles jars and lighter easily. In order to keep my youngest Max, who was 3 years old at the time, from getting scared we decided to make the most of it by gathering around the kitchen table to play cards and listen to more of Harry Potter in my boom box that had newly replaced D batteries.
Eventually, the rain stopped, but only a few of the condominium complex's emergency lights went on. Curious about the bright lights from the nearby town that was a couple blocks away, my family and I set out on an adventurous walk to get some much needed ice cream. What a night! What was supposed to be a quiet evening watching old movies became a magical one filled with storms, Harry Potter, and a walk to the nearby town in darkness. I would say it was an evening almost worthy of a Harry Potter chapter.
 To Harry!
As a parent, I noticed how something as simple as listening to an old Harry Potter audio books gave my whole family yet another common interest to enjoy together. Whether it was going for a long drive or listening to it as we played cards, it gave what we were doing together a greater sense of meaning and pleasure. To be silly, my family and I still do a playful toast with our best British accent and say, "To Harry!" mimicking a scene in the book. It never ceases to bring a laugh out of everyone.
 Mindfulness
As a Health and Happiness Specialist, someone who teaches and writes about mindfulness for today's busy people, I have noticed how listening to a great story can captivate the attention of a group, similar to the practice of mindfulness listening. It's a kind of listening where one becomes so engrossed in the story that your whole being comes to life with the story. It's mindfulness concentration at its best. Further, listening to the Harry Potter stories had the power of gathering people together and appreciating their special time. I am forever grateful for the mindfulness and magic that Harry and his stories added to my family vacations.
How about you?
If you're wondering about how to make your family time extra special? Try this.
Encourage your family to listen to an audio book during your time together.
Involve the whole family to pick an audio book and chose one that everyone will enjoy.
Make sure to have a way to listen it both inside and outside the car.
Hit "play" and start listening.
Notice how your family reacts to the activity.
Intermittently discuss what's happening in the story.
Share what went well by doing this together.
If your family enjoyed this, repeat next time with another audio book.
I'm confident that once you start a family activity like this, it will become a tradition as it has for me and my family. Enjoy! Please leave your comments below and share with us some ways that you create lasting and meaningful memories with your family.
To learn more about ways to gain more time, more health, more love, and more success in the midst of your busy day, be sure to get my upcoming book, The Happiness Result. This book was created with today's busy people in mind to help them use 7 simple techniques for creating an awesome life. Go to www.TheHappinessResult.com to read the reviews and sign up to be notified when the book is available for purchase.