Fresh, Fun, and Fabulous Tip for the New Year
By Debbie Lyn Toomey,  Health and Happiness Specialist™, Speaker, Coach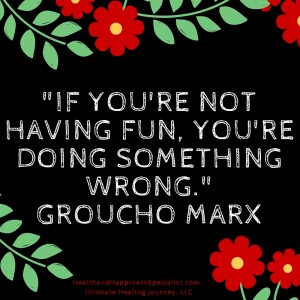 Happy 2016 to you and yours!
How's your New Year's Resolution coming along?
Does the thought of having to do your New Year's Resolution make you want to say, "Yay" or "Yikes?"
Are your old habits slowly creeping back into your routine sabotaging your good intentions towards a new and better you this year?
Alas, you are not alone! The traditional New Year's Resolutions needs to be eliminated or evolve as a person gets older. Isn't it time to begin the year with excitement and fun instead of exhaustion and frustration?
Satiated and Satisfied
As the great Groucho Marx says, "If you're not having fun, you're doing something wrong." There's so much to be said about having fun and doing what you love to make your activities more meaningful. By starting the year in this positive mindset, you can continue along the year feeling satiated and satisfied with goodness instead of grudges (towards yourself and others). In other words, instead of feeling heavy with physical weight or life's burdens, try something different that will surely make you feel good about yourself and have fun doing it. I call it 2 Weeks of Fresh, Fun, & Fabulous. It's a 14-day challenge that will help you boost a greater positive outlook, motivating you make healthier and happier choices during the rest of your year. Instead of the old traditional New Year's Resolution mentality which focuses on the "what-we-have-to-do" in order to feel better, the 2-week challenge will get you started in the "what-I-want-to-do" outlook that will naturally make you look healthier and happier.
Happy Note
Start this year on a happy note so that the rest of the year will become more harmonious for you – both at home and at work. Stop being amongst the statistics of well-intended people who were not able to achieve their own New Year's goals and punishing themselves year after year for their failure to achieve (or remember) their original resolutions.
Fresh, Fun, & Fabulous
The 2 Weeks of Fresh, Fun, & Fabulous Challenge is a wonderful way of starting this year. This positive approach to living a healthier and happier life encourages the participants to be creative, courageous, and consistent in our actions, yielding great results. Try something different this year. Allow it to be the year you step out of your comfort zone and enjoy more of what life has to offer. Big or small, any fresh, fun, and fabulous action will make you feel alive. We all know New Year's Resolutions are traditionally not sustainable and become a monumental task leaving many feeling conquered by their own well-intended goals. We don't need any fancy statistics to prove what we have come to know year after year. This year, why not take it easy on yourself by doing for something that will not only boost your happiness and also your wellness?
When we are happy, I have found that we:
make better and healthier choices
are more productive
relate with others
look and feel younger
sleep better
and so much more.You deserve it!

It's time to be kinder to yourself and realize that beginning the year by failing at self-made resolutions leaves a lasting negative tone for the rest of your year. It's time to give yourself permission to be human and realize that you have been doing your best. Isn't it time to add more fresh ideas, fun time, and feel fabulous? Don't you deserve it? If you just nodded and said, "yes," please continue to read. If you shook your head and said, "no," please go back to the top of this article and re-read again until you say, "yes, I do deserve it."

Don't you owe yourself more than that?

2 Weeks of Fresh, Fun, & Fabulous Challenge

Ready to give the "2 Weeks of Fresh, Fun, & Fabulous" challenge a go?

Here's how:

Dedicate: Mark 2 weeks on your calendar for this challenge. Tip: You can do this longer than 2 weeks if you want. If you forget a day, no problem. Just keep on doing it for the rest of the 2 weeks. The key is to stay true to the original challenge of doing something "fresh, fun, & fabulous."
Decide: Every day for 2 weeks, decide which aspect of the challenge you want to take on. Whether it's fresh, fun, or fabulous, think of what you can do with it. Would it be food, family, friends, finance, faith, or frills? What does it look like? Who will you do it with? Where will you do it? How will you go about it in doing it?
Document: Write down in a journal what fun activities you did and how they made you feel. Tip: journal at the same time and place daily. Create a routine out of this. Reading your journal posts will make you feel happy when you need that extra boost.
Declare: Let others know about what you are doing. Share with friends to further fuel the positivity around you. Tip: If you need more people to keep you on track, join us on Facebook. There is a group called 2 Weeks of Fresh, Fun, & Fabulous that has been participating in this easy and enjoyable challenge.

Have a Fun-Fabulous Time!

This year, why not try something different, radical, and fun? Why not begin the year with something easy, engaging, and exciting?  Instead of attempting to do something that will take weeks and weeks until you see an improvement, such as losing weight or getting organized, start doing something that will make you good from the start. Doing something different daily for 2 weeks will be enough to get you feeling good about yourself. Isn't that the ultimate goal of all New Year's Resolutions? By trying this new spin on resolutions, you will add more excitement and enjoyment into your life. I wish you a fun-fabulous time as you play along with this challenge!

Need coaching support in how to be consistent with your goals, visit www.healthandhappinessspecialist.com today.