This past weekend was full of laughter!
Last Saturday I started my 4 week Laughter Yoga™ class at a nearby yoga studio, and last Sunday was World Laughter Day. As a Laughter Yoga™ teacher I still get so amazed at the power of laughter and how it instantly transforms people. I love it when new participants come into my Laughter Yoga™ class with a perplexed, "I don't really know what I am in for" kind of look. When I explain to them about what laughter is and how it can bring us to a place of oneness, they immediately see the genius in it. The reason why I wanted to learn this form of yoga is that it's easy, playful, and non-intimidating. If you can laugh and take deep breaths then you can do it!

No Yoga Experience Necessary
It can be done literally anywhere. Further, it's a wonderful way to get people, who are intimidated with the concept of yoga, to get the feeling of blissful mind-body-spirit connection that yoga delivers. Laughter Yoga™ can be done sitting or standing and with no yoga experience. I've had the honor of doing this yoga for stroke patients in rehabilitation centers, for seniors, for low income housing residents, cancer survivors, care givers, health care professionals, and even Harvard researchers!
As a nurse and a Laughter Yoga™ teacher I get invited to speak at corporate retreats, cancer survivor events, and hospitals. I really enjoy sharing practical information with people so that they can be inspired and reminded to add more laughter to their day. This exercise is perfect for those who can "use more laughter" in their lives.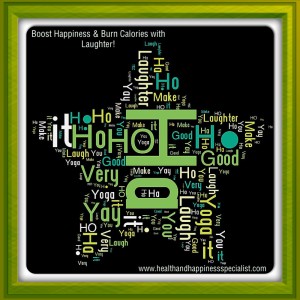 Experts Seriously Studying Laughter
The science of laughter, Gelotology, is a field that has been getting attention from researchers since 1964. Researchers like Dr. Edith Trager and Dr. William Fry are the pioneers in this field.  In the 1970's Norman Cousins, writer and magazine editor for the Saturday Review, was diagnosed with a painful and debilitating autoimmune disease. When his own doctors could not help him cure or manage his pain, he discharged himself from the hospital and checked into a hotel where he used high doses of Vitamin C and laughter to cure his disease. He found that 10 minutes of deep belly laughter gave him 2 hours of pain-free sleep.

7 Fun-Facts
Here are some fun and interesting facts about laughter:
1 minute of deep hearty laughter is equivalent to 10 minutes of rowing a boat or jogging!
 Deep hearty laughter is an aerobic exercise.
We can "Fake it til' we make it." Our mind doesn't know the difference between fake and real laughter. We feel good either way.
Kids laugh 300-400 times a day. Adult laughs approximate 50 times a day.
It's a social contagion. It's catchy and people who hear it also benefit from the sound of laughter increasing the positivity in the environment.
Deep hearty laughter reduces tension and boosts energy.
Deep hearty laughter can boost the immune system.

LOL
Next time you find that you've run out of time to work out or if you are feeling low, why not try laughing? Start with a "fake" laughter and just keep going until you start feeling better. You don't have to wait for someone to make you laugh out loud (LOL.) You can get started anytime. Remember, whether it's fake or real laughter your body will respond to it and you will begin to release your stress and tension and pretty soon you will start to burn calories. Yes, with laughter you can boost your happiness and burn calories within minutes.
Interested in more ways to sustain a high level of positivity in your life, contact us at [email protected] to find out. We can work together in helping you reach your dream of living a happy and healthy life.