Health and Happy 2015 to you!
This year, instead of having a New Year's "re"solution, why not try a "solution" instead? Retire the past ineffective New Year's resolution and try something simple and effective. Use a one-word-mantra that best describes what you want for yourself this year—it worked for me and I know it can work for you, too. Still not convinced about trying out this easy technique? Maybe these facts can help sway you toward adopting a new solution towards a healthier and happier year.
45% people make New Year's resolutions
8% of people are successful in achieving their resolutions
Top 4 areas of resolutions: #1 Self Improvement or education related resolutions; #2 Weight loss; #3 Finances; #4 Relationships
Source: University of Scranton's Survey conducted January 1, 2014 and published in the Journal of Clinical Psychology.
The solution focused.
I actually stopped doing New Year's resolutions 10 years ago because I got tired of being too hard on myself for failing to accomplish my long list of personal and professional goals. That year I vowed to create ways to be kinder and more self-compassionate to myself. I decided to let go of the list and just go with a one-word mantra that would make me feel the way I wanted to feel. The word that kept coming to me was "spirited." To me this word was perfect for that year because it embodied all the feelings that I wanted to have at work and in my life. That year "spirited" meant feelings of:  joy, authenticity, play, fun, creativity, courage, and vibrancy that I craved so deeply.
To my amazement this word became the solution that I was looking for in all areas of my life. What I found was that it instantly gave me access to the wonderful blend of positive emotions that I wanted when I would think about it. This helped me maintain a positive outlook that allowed me to get more done in less time, leaving me with more time for self care and time with those I care about. My mantra helped me become more mindful and productive in all areas of my life.
A game changer!
This one-word-mantra technique became a game changer for me, and I have been doing it ever since. My one-word mantra has: reminded me of my promise to myself, instantly given me clarity when I felt overwhelmed, energized me when I am feeling low, empowered me when felt insecure and scared, and uncovered some hidden gifts and strengths that I didn't know I had. This one-word-mantra technique contains many magnificent surprises for those who choose to practice it.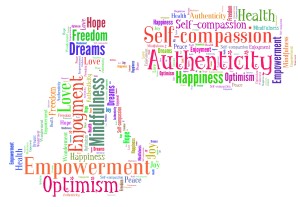 7 Steps to your very own One-Word Mantra:
Breathe: Take 3 deep breaths.
Ask: How you want to feel this year?
Notice: What word keeps coming up?
Smile: Did the word make you smile inside and out? If yes, then go with it. If no, keep going.
Pick:  Decide on the word. There is no such thing as making a mistake here. The only mistake is not deciding and not trying it out.
Reminder: Keep your word in plain sight. Put it on a post-it note and place in on your desk top, refrigerator, a door, a mirror, a head board, on the car dashboard, etc. Find quotes that contain the word and the energy that embodies that word. Use the word as part of your new password for the year. Create a vision board with it.
Have fun with it and be prepared to be amazed!
I hope this one-word-mantra technique will help you make this year be one of your best ones ever!
If you are looking for a more intensive 1:1 coaching support to help make 2010 the best one of your life, contact me today at healthandhappinessspecialist@gmail.com so we can discuss ways that I can help you live the life you deserve.
Client testimonial:
"Debbie is the best speaker about happiness and living a balanced life! She is also a great coach who always knows how to help smart and successful women achieve what they truly want! Debbie gets it – and she is the best ever!" -A. Sanford